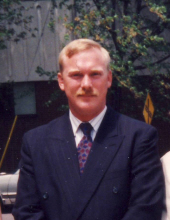 Obituary for Carl Frederik Breivik
Carl passed away suddenly at his home in Wainwright, Alberta on Friday, August 16, 2019 at the age of 55. Carl was predeceased by his father Wilfred in 2003. He is survived by family members in Ontario: his mother Lizzi, brother Erik (Monique) and sisters Karen (Kevin) and Britta (Steve). He will be missed by his family, nieces and nephews, co-workers and friends in both Ontario and Alberta.

Carl served as a corporal in the Canadian Military from 1982 to 1997, at Canadian Forces Bases across the country, as well as on overseas missions in Germany and Kuwait. His last posting was at CFB Wainwright, where he chose to remain and work as a civilian in the community. He was an unassuming man with a strong sense of empathy, who enjoyed helping others and caring for his pets. He also enjoyed cooking and spending time in the outdoors. He was skilled with computer technology and electronics, and was helpful to many friends over the years in this area.

A grave side service will be held at 11 am, October 4, 2019, at Victoria Lawn Cemetery in St. Catharines, Ontario. Close family and friends will be invited to refreshments after the service.


from 'There are Some Men," by Leonard Cohen

I had a friend:
he lived and died in mighty silence
and with dignity,
left no book, son, or lover to mourn.

Nor is this a mourning-song
but only a naming of this mountain
on which I walk.
fragrant, dark and softly white
under the pale of mist.
I name this mountain after him.


Previous Events
Service
Victoria Lawn Cemetery
432 Queenston Street
St. Catherines, ON L2R 7K6