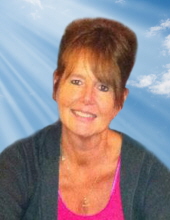 Obituary for Denise Krueger
KRUEGER, Denise (nee Matfin) July 8, 1964 - April 25, 2021

Denise passed away in her home with family and friends by her side after a brief journey with cancer. She is survived by her husband, William Krueger; sons Kristofer Parkin and Tyler Parkin; mother, Irene McNabb (Don); stepmother, Gloria Matfin; brothers David Webb (Lorraine) and Darren McNabb; sisters, Rhonda Webb (Cliff), Amanda Matfin (Kent) and Jana McNabb; her best friend for over 30 years, Rick Mallett (Elaine); several nieces and nephews; as well as many other extended family and friends. She was predeceased by her father Jack Matfin and sister Karen Kerr.

Denise will be remembered for her kind heart and unwavering love for her family and friends. When she received the news that her cancer was terminal, she told the oncologist "All that matters to me is that my 3 boys are okay. As long as Willy, Kris and Tyler are good, I can handle this." She absolutely adored her sons Kris and Tyler and always talked about how both of them were her proudest achievements in life. Her devoted husband Willy of 26 years was her 'rock' and she loved him forever, for always and no matter what. She loved getting into mischief with her best friend Rick and the two of them always made sure to have a visit each morning while they gossiped and caught up on their soaps.

She could effortlessly light up a room with her funny stories and her laughter. She had a way of making a good time even better and was happiest when she was visiting with her friends. She always had time for a hug and a quick chat whenever she would run into people she knew around town and her positive outlook on life always brightened the days of those around her.

It was second nature for Denise to put others before herself and she loved making the people around her feel valued. When Kris and Tyler were in high school, her door was always open for any of their friends who needed a place to stay. She lovingly called Curtis, Amanda and Kristal her "kids" and spoke fondly of all the memories she made with them while she watched them grow up beside her own children. Prior to her retirement, she worked as a health care aide in several care homes around the greater Lloydminster area.

Denise always said she was on borrowed time since a major heart attack almost took her life in 2009. She lived her life the way she wanted to and she had a lot of fun doing it. She didn't let her health issues slow her down and never wanted the people she cared about to worry about her.

At Denise's request, there will not be a public service. A private celebration of life involving her 3 boys Willy, Kris and Tyler will be held and her ashes will be spread at a few of the places she enjoyed most during life.