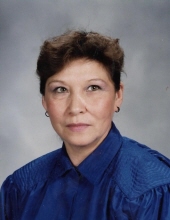 Obituary for Faye Bernice Desjarlais
Faye Desjarlais passed away in Lloydminster on Thursday, January 28, 2021 at the age of 68 years.

Faye will be loved and remembered by her Husband Wilfred Coustin of Lloydminster Children Clinton Coustin of Marwayne, Francesca Coustin of Lloydminster; Grandchildren Seth Coustin, Lisa-Marie and Liberty Coustin (Chris Boyd-Keizer); Great Grandchildren Alac Coustin and Aria Desjarlais-Keizer; Siblings Bruce (Sophie) Desjarlais of Fishing Lake, Jack Desjarlais (Arlene) of Edmonton, Max (Darlene) Desjarlais of Edmonton, Cyrus Desjarlais of Fishing Lake, Yvette Desjarlais of Lloydminster; Sisters-in-law Grace Desjarlais of Fishing Lake, Sandy Desjarlais of Fishing Lake, Helen Desjarlais of St. Paul; Sisters by choice Marlene Gormley of Lloydminster and Lillian Laboucane of Fishing Lake; As well as numerous nieces, nephews and many friends.

She was predeceased by her Parents Joseph and Christina Desjarlais; Siblings Kenneth, William, Clifford, Joanne,Raymond and Elmer Desjarlais;
Sister-in-law Rose Desjarlais.
.

A private Wake and Service for Faye will be held at the Frog Lake Community Hall in Frog Lake.