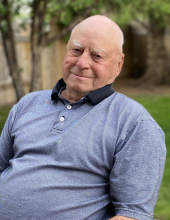 Obituary for George Wilson Bonnar
It is with profound sadness that the family of George Bonnar announces his passing on August 20, 2020 at the age of 87, surrounded by his family. George will be lovingly remembered by his wife and best friend of 46 years Ena and as a devoted father to his children Tammy (Craig), Lisa and Lori. George will also be forever missed by his two grandchildren Saylar and Deklan.

George is survived by his brothers Jim (Hilda), Harry (Lorna), Larry (Alma), Bob (Sharon), Norman and his sister Marie Nicholson.

George was predeceased by his parents James and Winnifred (Boddy), his infant brother Donny, brothers John and Peter and sister Terrie. And mother in law Roberta Harris.

George is survived by his in laws George (Helen) Harris, Olive Schneider, Don (Roberta) Harris, Ron (Joanne) Harris, Ted (Wanda) Harris, Barbara (Emerson) Rhinehart, and Leslie (Shirley) Harris.

George is also survived by numerous nieces and nephews and extended family.

George will fondly be remembered by all as a kind, giving and honest man who wore his heart on his sleeve and always went out of his way to lend a helping hand.

George was born in Maidstone, Saskatchewan on July 11, 1933 where he farmed until he retired in 1996 and moved to Lloydminster.

A private family Graveside service will be held in Maidstone, Saskatchewan at a later date.

Donations in memory of George may be made to the donor's charity of choice.

The family would like to thank Dr. Ezumah of the Lloydminster Hospital for the outstanding compassion and care that he provided to George, and his family in this very difficult time.

The family would also like to extend a heartfelt thank you for all of the beautiful messages we have received, the numerous visits, and the kind gestures by all who George touched throughout his life.