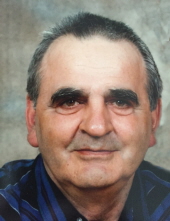 Obituary for Herbert Thomas Nimrichter
Herbert was born May 14, 1945 and grew up on the farm at Barthel, Sk with his parents and 11 sisters and 3 brothers. He was the 3rd youngest. Herb attended school at Barthel until grade 8. Then he worked various jobs. Herb was always full of life and always willing to help others. Herb met the love of his life, Shirley Schwehr, in 1966. They dated and proceeded to get married in Loon Lake, SK October 18, 1969. They started their life together in Edmonton, Alberta. After Herb and Shirley were married they purchased the farm from Herb's parents at Barthel, Sk. On March 6, 1971 Calvin was born and on September 22, 1973 Shelly was born.

In 1975 Herb and Shirley moved to Prince Albert, SK. where Herb worked in the construction field. Learning to master his technique as time went on. In late summer 1983 they moved to Barthel, Sk which they called home for almost 40 years. Herb's carpentry skills came to be known in the community as masterful and beautiful. He was always willing to work as hard as he could and help any neighbor. He enjoyed fishing, bear hunting, playing cards, having company over, spending time with his family and grandchildren. On a nice summer day you would find Herb sitting outside with his coffee cup in hand wearing his straw hat. Barthel was truly his home and he loved all his neighbors and friends. In 2013 Herb was diagnosed with cancer. His strong will helped him fight each and every day. In January 2021 they moved to Lloydminster, Sk.

Herb passed away April 15, 2021. at the age of 75 years. He leaves to morn his loving wife Shirley, son Calvin Nimrichter, daughter Shelly (Barry) Hoehn grandson Cole Hoehn (Skylar) granddaughter Madison Hoehn, 6 sisters, numerous, nieces and nephews and countless friends. Herb is predeceased by his parents, Wilhelm and Margarethe Nimrichter; 3 brothers and 5 sisters

Cremation has taken place and a Family Graveside Service will be held at the Barthel Pioneer Cemetery, Barthel Saskatchewan.

Donations in memory of Herbert may be made to the Canadian Cancer Society.