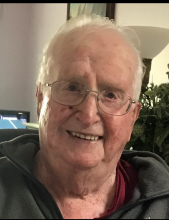 Obituary for John "Bud" Whitehead
On Tuesday, January 26, 2021 John (Bud) Whitehead of Hughenden, Alberta passed away at the age of 92 years at the Wainwright Hospital.

He is survived by his loving wife of 64 years, Pat of Hughenden; one son, Craig (Barb) Whitehead of Wainwright; one daughter, Penny (Pat) Clark of Hughenden; four grandchildren, Robin (Matt) Powell, Crystal (Tyler) Gilbertson, Monty (Mamie) Clark, Carli (Chris) Ousdal; ten great grandchildren; one sister, Pat Spence of Sylvan Lake, Alberta as well as numerous nieces and nephews. He was predeceased by his parents; three sisters, Miriam, Betsy, Nonnie; one brother, Burt.

Bud's granddaughter Crystal has composed the following as a heartfelt tribute to her grandfather:

Rest in peace Grandpa Bud.

The lessons you taught me have made me a stronger and better human.

You taught me to a slow down and look around. To see the beauty in the changing seasons. You showed me what it meant to grow things in dirt and to be proud of the harvest. How to share that harvest with everyone that asked. To watch where I placed my feet so I didn't step on new growth and to be careful not break the plant when picking.

You told me stories, some true, some lies, some a little bit of both.

No matter what was going on you always had time for us kids. You answered all of our questions over and over. You walked in the field with us. Laughed at us when we climbed trees and never told us to stop being kids. We were free to be curious and grandpa always had the answer to anything we didn't know the answer to.

You taught us that books hold whole worlds of imagination without leaving the farm. That patience is the key to absolutely everything, be that catching the gopher or finding a fit for a puzzle piece.

You sat through our productions of the big bad wolf on the record player downstairs and taught us pool.

You showed us love. Unconditional love with every word and every walk and every story.
You loved grandma fiercely, never said a single bad thing about her, and showed us what it was like to look at someone with adoration no matter how many years you've spent together.

You cherished every scrap of paper we made for you as if it was a masterpiece. And encouraged us to be the best versions of us we could be.

You have always been proud of us and we feel it.

When the great grandkids came you opened your heart to them the same as you did for us.

We have all been so fortunate to be able to call you our grandpa and to walk the earth with you by our side, guiding us into adulthood and supporting us as we fall down and get back up again.

Have fun fishing in the clouds and haunting the hallways for sport. You will be missed.

Keeping with Bud's request no formal services will be held. Donations in memory of Bud may be made to the Hughenden Fire & Rescue Society.


Events
Event Information
No Formal Services To Be Held
Memorial Contribution
Hughenden Fire Fighters Association