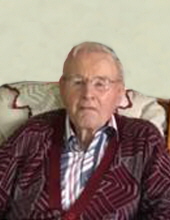 Obituary for John "Harry" Henry Hissett
On January 10, 2019 Mr. John "Harry" Hissett passed away peacefully at Wainwright Health Centre, Wainwright, AB at the age of 94 years.
Harry is survived by his loving family; his wife, Audrey Hissett of Wainwright, AB; five children, Rod (Liz) Hissett of Hughenden, AB, Dale (Marcia) Hissett of Natal, BR, Leonard Hissett of Wainwright, AB, Gordon (Shauna Zack) Hissett of Vegreville, AB, Grant (Gail) Hissett of Drayton Valley, AB; son in-law, Rick Reid of Edmonton, AB; seventeen grandchildren, Michelle McClennan, Steven Reid, Sean Reid, Vern Reid, Laine Hissett, Adam Hissett, Diane Rivera, Chad Hissett, Mark Hissett, Kalisha Morgan, Laredo Hissett, Chasney Hissett, Rahlston Hissett, Ashley Netik, Ami Hissett, Eli Hissett, and Abi Hissett; nineteen great grandchildren; brother, Bob Hissett of Calgary, AB; two sisters, Dora Fitzpatrick of Dewberry, AB and Freda Grey of Edmonton, AB; as well and numerous nieces, nephews, extended family and friends.
He is predeceased by his parents, Richard and Mary Hissett; daughter, Wendy Reid; daughter in-law, Gayle Hissett; sisters, Olive Miller, Jenny Fiddler, Rena Poff and Joyce Truman.
In keeping with Harry's wishes, no formal services will be held.
Any memorial contributions may be made to Diabetes Canada or the Wainwright Hospital.


Memorial Contribution