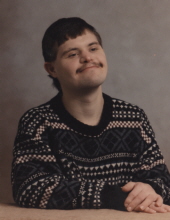 Obituary for Joseph "Joe" William Behnke
On Saturday, February 22, 2020 Mr. Joseph "Joe" Behnke passed away peacefully at the age of 53 years in the Lloydminster Continuing Care Centre, Lloydminster, AB. Joe will be forever loved and remembered by his Sisters Cathy Nelson (Bill Bonner) of Amisk, AB and Susan (Pat) O'Neill of Streamstown, AB; Nieces and Nephews Jason (Janelle) Nelson, Jarret Nelson, Justine (Cory) Knowles, Erin O'Neill (Ryan Clarke) and Ethan O'Neill (Jolene Sybesma); Great- Nieces and Nephews Rylin, Khye, Jaxson, Jayce, Kennedy, Hadley and William; Half-Sisters Patsy (Vance) Billey, Lorraine (Peter) Kent, Janice (Len Latoski) Skoreyko; as well as his extended family.

Joe was predeceased by his Father William in 2016 and Mother Maria in 2008.

A Mass of Christian Burial will be held at 1:00 p.m. on Friday, February 28, 2020 at St. Anthony's Catholic Church, Lloydminster, AB.

If so desired donations in memory of Joe may be made to the Bea Fisher Foundation, Lloydminster Continuing Care Facility, or charity of donor's choice.


Hello, my name is Joseph William Behnke, and this is the story of my life. When I was born on February 12, 1967, the doctors said I would not live very long (little did they know). They also encouraged my mom and dad to give me up, but they said no.

As a child, I would push my tricycle or toy duck out in the pasture or down the road. I would go very quickly, and the search would be on as to which direction I had went. In the house, I had marbles that I would move from one side of the container to the other. I also had farm animals and other toys that I loved to play with. I went to Parkland School, which was a school for children with special needs. Mrs. Joyce Kemp was my teacher and she worked magic with my disability. I would live in Lloydminster in homes from Monday to Friday, and Mom and Dad would take me home for the weekends.

My mom and dad farmed near Streamstown. I loved our many farm dogs – we always had one. I would squat down and pet the dog for hours.

In 1986 I became a client with the Bea Fisher. I lived in a residence during the week, and Mom and Dad would bring me home on the weekends. Later on, my dad would bring me home once a month. Dad and I would always attend church together while I was home, and sometimes go visiting. I loved to go out to my Uncle George's for coffee and cookies.

I worked different jobs at the Bea Fisher like delivering mail, sorting bottles at the depot, delivering papers, and shredding files. I also did many activities there: dancing, darts, swimming, basketball, bowling, ball hockey, walking at the Multiplex and walking dogs. I loved when the staff would take me out for a cheeseburger and my favourite drink apple pop (apple juice). I loved to get out for a walk; when people talk to me, I like to shake their hand and say "hello". The highlight of my summer was going to Camp He Ho Ha. A week of doing fun activities and meeting new people was always lots of fun. The Bea Fisher enriched my life; I was able to see and do so many different things, and given so many different opportunities because of them.

In 2014, I started to become forgetful and had to look for a new home. I moved into Points West Living in Lloydminster in February of 2015. I stayed at Points West until October of 2015 and then I waited at the Lloydminster Hospital for a more suitable home. While I was there, I was given a room all to myself with double doors that I could see out of. Eventually I figured out how to get out of my room and I would "elope" (the nurses' words, not mine) from time to time. I really enjoyed getting out and exploring the hospital, the nurses maybe not as much. While there, I made many new friends.

Finally a bed became available at Lloydminster Continuing Care, and on December 1, 2015 I got to move in. During my time in LCC I was very well taken care of. I still got out quite often for the first few years, and really enjoyed a truck ride out to the farm or just around town. I went from walking the floor of the cottages, to eventually using a wheel chair to get around.

I have always been very agreeable and answer most questions with "sure". When I'm happy I will sometimes rub my hands together and my eyes will light up. I love to tease people, but don't like to be teased myself. I love playing with my toy animals or cars and looking at picture books. I love to dance and sing to music and my favourite movie is ET, although any movie with a cat or dog in it is alright by me.

I turned 53 on February 12, 2020, far surpassing the expectations from when I was born. My life has been an adventure, teaching and learning along the way. I was able to meet many different people and touched many lives. I lived my life to the fullest, and now I am able to run freely again, reunited with my mom and dad.

Thank you for sharing in my life.


Previous Events
Service
St. Anthony's Catholic Church
2704-56 Ave
LLOYDMINSTER, AB T9V 2C1
Cemetery Details
Location
Lloydminster City Cemetery
Lloydminster, SK