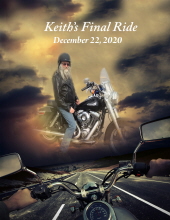 Obituary for Keith Dwayne Alward
On Tuesday, December 22, 2020 Mr. Keith Alward passed away suddenly at his home in Mannville, Alberta the age of 58 years. Keith will be always loved and deeply missed by his Beloved Mother Marie Alward of Sylvan Lake; Siblings Darrell Alward of B.C, Larry (Donna) Alward of Vermilion, Cathy Alward of St. Albert, Glenn Alward of Red Deer; As well as his Nieces, Nephews, Extended Family, College Park Family and Friends.

He was predeceased by his Father Dennis Alward.

Unfortunately due to restrictions a private family service is being held.

If so desired donations in memory of Keith may be made to Furbabies Forever Homes or charity of donor's choice




Keith's Story written and shared by Donna Alward

Welcome Everyone,

We are here to honor our Brother, Son and Friend – Keith Dwayne Alward.

Keith was born on January 8, 1962. He was the second of five children born to Dennis and Marie Alward. His siblings are Darrell, Larry, Cathy and Glenn.

Keith will be forever remembered by his Loving Mother Marie Alward; Brother Darrell Alward, Krysta (Dave) and Amanda; Brother Larry (Donna) Alward, Kyle (Mel), Ryan (Kristen), and Alyssa (Garth); Sister Cathy Alward (Claude), Kendra (Rob), Taylor (Steven), Jordan (Rik), Eric (Maddy); Brother Glenn Alward, Morgan, Jared, Connor (Kiyona); Great Nieces Karma, Willow, Skylar, Blaire, Zadie and Finley; Great Nephews Jack and Nixon.

Keith grew up North of Kitscoty at the corner of Streamstown Rd, the Alward Family Farm, and then the Keichinger Farm.
Growing up a farm boy, he learned his strong work ethic, love for animals and had a tight family bond. These strong family ties were very important to help weather the storm of the loss of their Father.
Keith took all his schooling in Kitscoty and graduated in 1980.
He always had an interest in vehicles, and figuring out what made them tick. He started working at the garage in Kitscoty and Lloydminster. In Vermilion, he completed his apprenticeship and was a full-fledged Journeyman Mechanic. He earned many excellence awards for his time and service in his long career. Keith was the kind of mechanic that would not only find the problem and fix it. He would find the problem, fix the faulty part, not replacing the part with a new one, and put everything back together. He had a real keen mind for how the engine worked. From there, Keith worked in Grand Center for a couple years. He was able to enjoy time with Uncle Byron and Auntie Sandra. From there he headed onto his favorite place – Banff. Keith called Banff home for the next fourteen years. It was here where he found his peace, living in the Rockies, with mountain streams, rivers and endless trails for walking his dogs.

In 2001, Keith married Sherry and made their new home in Wetaskwin for ten years.

In 2010, we asked Keith to come work with us back in Vermilion at College Park. He fit right in and made friends very quickly. He loved to razz Larry about those "beep beep" Chev's that were always breaking down.

I will always remember how excited and proud he was of his antique house he bought in Mannville. It had lots of big tress for all the birds he was feeding. It wasn't long before he found a handful of great friends there.

A few years later would change Keith forever- the death of his dog Kodi. He kept all his dog's ashes – Mukwa, Molson and Kodi. He couldn't bare to be without them. This was evident by the poem he found and kept on his refrigerator.

It was a while before Keith smiled again. He rekindled a passion; he once had, when he purchased his very first brand new Harley Davison. It was the first time he was happy to pose for a picture!

We enjoyed hearing the low rumble of his Harley coming and going in front of the the dealership. He was always happy when the weather was riding-friendly. And when it wasn't, he coasted in with Grandma Ethel's 85 Ford Crown Vic.

Keith loved reading. He had quite a collection of books at home. For as long as I've known him there was a small novel in his back pocket.

Keith had a hobby collecting interesting rocks and ammolite stones! He was very intelligent, always kept up with what was going on in the world. The knowledge he packed upstairs was amazing. Keith could be playing War Craft and rattle off the answers to Jeopardy on the TV in the background.

He also loved playing Chess and had an extensive variety of taste in music. His fellow mechanic co-workers would get such a kick out of a country song in the middle of AC/DC, Pink Floyd, Alice Cooper, Dr. Hook or a Christmas "Pa rum pum pum pum" in the summer.
Where ever Keith lived or worked he made life-long friendships. He wasn't a man of many words, but he was a man of depth, character, integrity, caring and loved his family and friends very much.
We are all going to miss his morning greeting at the coffee machine "Good Morning – Doing any good today?"

You were a great brother-in-law and I'm going to miss our talks, your big hugs, your laugh and your kind heart.

We love you, rest in peace and enjoy your final ride Brother.