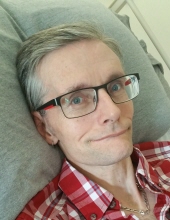 Obituary for Kimberly Raymond Schuster
On Nov. 7, 2019 Kimberly Raymond Schuster passed away at Points West Living Wainwright where he lived his final years of a courageous life with Huntington disease. He was 44 years old. Kim was predeceased by his partner Janice Mayowski, mother Jacqueline and brother Garth. His father Denis sadly died suddenly on Nov. 12, 2019.

Kim is lovingly remembered by friends and caregivers in Wainwright, extended family members, and friends in the Huntington community.

Friend Terry Taylor and cousin Clark Johnson thank Dr. Hay, all the staff at Points West (with special thanks to Noreen), Alberta Health and other supports for their compassionate care for Kim.

A graveside service will be held Saturday, Dec. 7, 11 am at Evergreen Cemetery 16102 Fort Road NW Edmonton with lunch and remembrance to follow at community hall. In lieu of flowers, donations in Kim's name are welcomed by the Huntington Society of Canada (151 Frederick St., Suite 400, Kitchener, ON N2H 2M2).