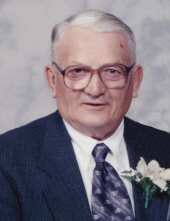 Obituary for Leonard Anton Kenzie
Leonard Anton Kenzie passed away peacefully on July 26, 2020 at the Vermilion Long Term Care Center.

Leonard is survived by and will be lovingly remembered by his 6 children – Marg (Dave) Miell, Bill (Lona) Kenzie, Milli (Franco) Bomben, Lois Kenzie, Rick (Juanita) Kenzie, and Eleanor Kenzie, as well as 15 grandchildren, 14 great-grandchildren, and 2 great-great grandchildren, and numerous nieces and nephews.

He was pre-deceased by Marion, his wife of 69 years, in 2018, as well as his parents, Anton & Mathilde Kenzie, brother Martin Kenzie, and sister Eleanor Esslinger.

Leonard was born in Berlin, Germany on September 14, 1926, and emigrated to Canada with his parents and brother as an 18-month-old child. He grew up in frontier conditions in a log cabin north of Mannville, Alberta - walking to a one-room school, and farming and travelling with horses.

Leonard experienced dramatic advances in society and technology throughout his lifetime, and not only adapted to those changes, but thrived as he and his wife Marion built a prosperous modern farm from humble beginnings with nothing to their name but the clothes on their backs.

Together they raised 6 children to be honorable, productive members of society in whom were instilled strong values of hard work, integrity and honesty, which was a source of great pride to him.

Leonard was very community-minded and served in various capacities including Secretary of the Cummings Lake Mutual Telephone Company, and as Councillor for the County of Minburn and County of Vermilion River. He was one of the founders and served as President of the Vermilion Livestock Co-op Auction Market, and was instrumental in the construction of the current auction facility. He was involved in the organization and successful launch of the Vermilion River Gas Co-op. He was also involved in the Stellaville Historical Society, and promoted the restoration of the St Helen's Stellaville Anglican Church.

In their retirement years, he & Marion were able to fulfil several "bucket list" dreams, including touring Eastern Canada, particularly enjoying the fall colors and people of the Maritime Provinces and Newfoundland. Leonard found great joy in his grandchildren, observing their sports and cultural activities, as well as the hours spent playing board and card games with them.

He will be greatly missed by his loving family, who will always take pride in his legacy of love, service, integrity and hard work.