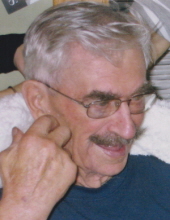 Obituary for Michael Howard Kochan
Early morning, on Saturday, November 7th, Mike passed away peacefully in long term care, Vermilion, at 99 years of age.He will be lovingly remembered by his family: Karen (Clarence) Knutson of Vermilion, Olga (Larry) Elliott of Vancouver, Vic, Larry and Tony of Vermilion, Carol of Bonnyville; grandchildren: Wade, Treena, Beverly, Shane, Sacha, Clay, Sheena, Lana, Sean, Ote, Dallas and Taryn; 12 great grandchildren as well as ex-wife, Sophie.

Mike was predeceased by his daughter Shirley and son Greg; his parents, Harry and Katherine; brothers and sisters: Bill, John, Mary and Sally.

Mike's family moved to Canada from Ukraine just before World War II began. Although he/they didn't understand/speak the English language at all, through much hardship he excelled in school as an honour student; and was a much sought after hockey and base/soft ball player until approximately 30 years of age at which time he quit in order to concentrate on building up his farm.

Although Mike moved into the Lodge almost nine years ago, his heart remained at the farm with his herd of cattle. His knowledge of the history of them was impressive. He loved to go out to check the land and his herd, while still able, and always marvelled at the fact that he could "move the herd with a handful of grass."

Mike will be remembered for his strong will which helped to bring him through several close calls with death; vast knowledge of world history as well as current affairs; strength of character/toughness, sharp mind, wisdom and sense of humour right until the end.

In keeping with Mike's wishes cremation has taken place and family gathering will be held.

If so desired donations in memory of Mike may be made to Friends of Vermilion Health Centre.

With deep love, we (will) miss you, Dad! (See you on the other side!! )

Our thanks and appreciation for the care received in the Lodge, the hospital and later in long term care. And a special thank you to those who took a few extra minutes to spend with dad! Quality time spent makes a world of difference in lifting one's spirit!