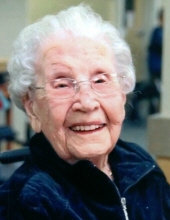 Obituary for Olive May Frissell
On Friday, August 2, 2019 Mrs. Olive Frissell of Wainwright, Alberta passed away peacefully at
Points West Living Wainwright at the age of 100 years.
Olive is survived by her children, Ed (Sue) Frissell of Wainwright, Jim (Alison) Frissell of
Beaverlodge, Ken (Vi) Frissell of Islay; 8 grandchildren, Sheldon (Carrie) Frissell of Wainwright,
Mike (Nancy) Frissell of Wainwright, Kerry (Sandra) Frissell of Wainwright, Tracy (Neil) Howk of
Longview, Jay (Brenda) Frissell of Grande Prairie, Ken Budzilka of Edmonton, Terry (Bert)
Samuelson of Vermilion, Dwayne (Diane) Budzilka of Vermilion; 19 great grandchildren, Tanner
(Alyssa) Frissell of Wainwright, Willow Frissell of Edmonton, Coby (Ashlie) Frissell of
Wainwright, Brett (Jaden) Frissell of Wainwright, Jessica (Cody Taylor) Frissell of Wainwright,
Baylee (Brandon Grenon) Frissell of Cobble Hill, British Columbia, Kalli Frissell of Red Deer,
Lucas Howk of Longview, Troi (Joseph Mooney) Howk of Longview, Shaylene (Reggie Kee)
Kerr of Hamilton, Ontario, Angel Frissell of Grande Prairie, Riley Frissell of Grande Prairie,
Brina (Jody) Kiziak of Derwent, Kailey (Kevin) Bernauer of Greenshields, Shae Samuelson of
Edmonton, Darby (Donna) Budzilka of Edmonton, Denver Budzilka of Vermilion, Taliah Jeske of
Edmonton, Zachary Budzilka of Edmonton; 10 great great grandchildren, Rey Frissell, Cora
Frissell, Cooper Frissell, Aris Frissell, Cohen Frissell, Harper Frissell all of Wainwright, Annie
Diane Mooney and Ivy May Mooney of Longview, Kenley Bernauer and Kaige Bernauer of
Greenshields; one brother, George Jensen of Phoenix, Arizona; one sister-in-law, Betty Clarke of
Portage la Prairie, Manitoba; numerous nieces and nephews.
She was predeceased by her husband Bert; son Duke; ; siblings Murene, Tena, Christie, Earl, Teddy; sisters and brothers in law Annie, Mim, Mabel, Ethel, Marge, Orval, Harold, Bill, Howard and Lindy and Charles.

A funeral Service for Mrs. Olive M. Frissell will be conducted on Monday, August 12, 2019, 2:00 p.m., from the Church of the Nazarene, Wainwright, Alberta with Pastor Ryan Wood officiating. A private family interment will take place prior to the service at Auburndale Cemetery, Wainwright, Alberta.

In lieu of flowers, the family suggests memorial contributions be made to the CT scanner fund or to the charity of the donor's choice.


Previous Events
Service
Church Of The Nazarene
1002-18th Steet
WAINWRIGHT, AB
Cemetery Details
Location
Mount Auburn Cemetery
Highway 41
Vermilion , AB T9X1A9
Memorial Contribution