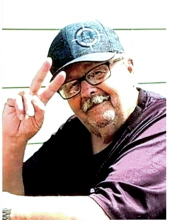 Obituary for Ralph Russell Gore
It is with profound sadness that the family of Ralph Russell Gore Jr. announce his passing on Saturday, August 7, 2021 in the Jubilee Home, Lloydminster at the age of 75 years.

Our Dad, Ralph Gore Jr., was born in Billings, Montana on February 25, 1946. Dad's younger years were spent in various places across the United States of America with family. In 1968 Dad came to Canada and travelled through the provinces until he moved to Saskatoon, Saskatchewan. In 1970 he met and married Bernice Cook of Onion Lake, Saskatchewan.
Throughout 12 years together they shared a home with 6 children. Around 1984 Dad took his two girls, Roxy and Nicki, to raise on his own.

Dad was also a proud long-haul semi driver for over 30 years, taking him all over Canada and the U.S.A.; he loved the open road. Dad had a great love for his children, grand-children and great-grandchildren. One thing that everyone knows about Dad was his sense of humour and telling jokes! In his later years everywhere he went on his scooter he made people laugh. Dad always made sure he was present in all ways and events to do with his family.
We are all very grateful to have had such an amazing Dad. He left us all with so many good memories, that we will cherish always and forever.

Ralph will be forever loved and deeply missed by his Children Roxanne Naistus (Joey Hill) of Lloydminster, Nicole Gore (Jean-Claude Youla) of Edmonton; Step-Children, he raised, Vivian (Richard) Chief, Carol (Jody) Cook and Merle Hill all of Onion Lake, Saskatchewan; Grandchildren Randall, Rebecca (Dallas), Isiah, Aroura, Megan, Jeremy, Brooke, Nicolas as well as numerous Step-Grandchildren; Great-Grandchildren Makennah, Haedyn, Bryelle, Atlas, Carter, Isabella, Isaac as well as numerous Step Great-Grandchildren; Brothers Robert (Sandra) Gore of Oregon, USA, Richard (Barbara) Daniels of California; Sister Virgina Cook of California; as well as numerous nieces, nephews, extended family and friends.

He was predeceased by his Parents Ralph Sr. and Ida Gore; Brother Randall Gore; Maternal Grandparents Emma and Gottlieb Kline; Step-Daughter Gail Cook; Son's in-law Ferdinand Naistus and Jerry Netmaker; Step-grandson Bryce Cook; Great- Nephew Carson Ceboll; Great-Niece Tara Jessen.

In keeping with Ralphs wishes cremation has taken place and a private service is being held.

If so desired donations in memory of Ralph may be made to the Royal Canadian Legion Branch # 39 (4505-49Ave, Lloydminster, SK S9V 0H9) or charity of choice.