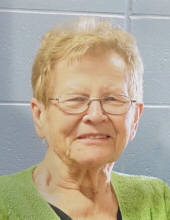 Obituary for Rita Louise Prieston
On Tuesday, January 5 2021 Mrs. Rita Prieston of Mannville passed away at the Mannville Care Centre at the age of 82 years.

A Family Graveside Service will be held at this time and a Celebration of Rita's Life will be announced at a later date when Covid-19 Restrictions are eased.

Donations in memory of Rita may be made to the Mannville Care Centre (Patient Comfort Fund) or the charity of the donor's choice.

Rita Louise Prieston was born on December 6, 1938 in Mannville, Alberta to Emma and August Bierman. She spent her growing up years in the Leifield Area and then Mannville.

Rita became a teacher after graduation and teaching was her passion. She was well loved and treated all children with love and kindness. Rita received the Alberta's Teachers' award of the year in 1990. She retired in 1991 after 35 years of teaching all grades in elementary.

Rita married Bruce Roberts in 1959 and Austin Prieston in 1986. Over the years Rita and Austin travelled locally to farmer's markets selling hundreds of wood crafts. She was also very involved in the Mannville United Church, Mannville Fair Board and the Mannville Old Timers Association. Rita loved travelling and she and Austin travelled extensively for many years.

Rita was however the most proud of her children, grandchildren and great grandchildren. She delighted in their projects and never discouraged anything they wanted to do. She was their supporter and was at every family event she could come to. During the pandemic her advice was "Keep a smile on your face and never give up."

Left to mourn her passing are her children Susan (Howard) Jackson of Mannville and Adrienne Roberts of Camrose; grandchildren Blair (Kara) Jackson, Cole (Amy) Jackson, Tyler (Sherri) Jackson, Crystal (Ramsie Joab) Jackson, Willow (Matt) Jaremco, Hanna (Brock) Morgan, Jessica and Hannah Roberts, Great Grandchildren Rylan, Rowan, Brock, Cadence, Ania, Rain, Jordan, Ayla, Harlow, Luke, Eliza, Tyce and Hardy; sister Katie Giebelhaus, brother Fred (Bertha) Bierman as well as numerous nieces, nephews

She was predeceased by Bruce Roberts, Austin Prieston, and her parents Emma and August Bierman.