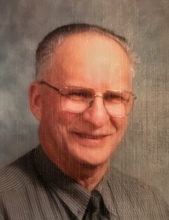 Obituary for Theodore Frederick Hill
With great sadness but with much gratitude for a life well lived, we announce that Ted passed peacefully on December 18th, 2019 surrounded by his loving family.

Ted was born in Irma and resided in the Irma area until his recent illness. Ted was proud to be the third generation to farm the family land south of Irma. Ted met Doreen at a local dance, wooed and married her, and they raised their family of four on the farm. They rarely missed a local dance, as Ted was a gifted dancer.

Ted was always active in local issues, being a member of local organizations such as Alberta Wheat Pool, the Fish and Game Association, Irma Co-op, Elks, and Citizens on Patrol. He enjoyed hunting and was a marksma

n. Ted and his family often went fishing in the summer, and snowmobiling in the winters. Ted was also fond of singalongs, whether at the farm or when camping with family and friends.

Ted was also an inventor. He was known to his family as a thoughtful, quiet man who could fix virtually anything, or would invent a better machine, tool, or solution to a problem. His children and grandchildren learned creativity, patience, and respect for others at his knee.

Ted is survived by his loving wife Doreen, children Donna (Brian), Diane (Randy), Patti (Greg), Brad (Leigha); ten grandchildren, Kiley Kristin, Brian, Reena, Melissa, Pieter, Jessica, Michela, Jaylene, and Taigen; and 23 great-grandchildren, 2 sisters: Mina Dyck and Aletha Tomlinson, 2 brothers: Stan Hill and John Hill.

Ted was predeceased by 3 sisters: Mildred Code, Muriel Thurston and Marilyn Lockhart.

Cremation has taken place and a Celebration of Life will occur on Saturday, January 18, 2020 at 2:00 PM from the Irma School Auditorium. In lieu of flowers, donations may be made to the Wainwright and District Community Health Foundation in support of the CT Scanner Project or to the Irma Cemetery Fund.


Previous Events
Service
Irma School Auditorium
5012 - 51 Avenue
IRMA, AB T0B 2H0
Memorial Contribution