Products
Take the time to explore our wide range of available products to get an idea of what might best suit your preferences and budget. Please call us with any questions or concerns, or to discuss your options in further detail so that we can assist you in finding the right product for you and your loved one.
18 Gauge Steel
20 Gauge Steel
Bronze
Copper
Cremation
Hardwood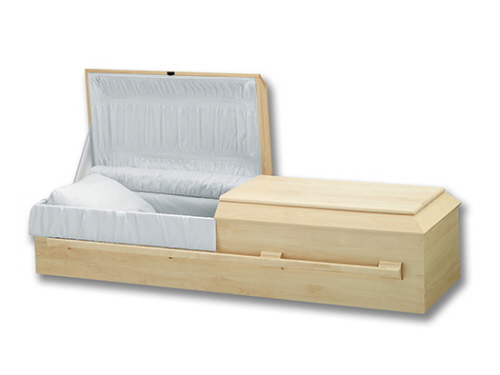 Aspen Pine
This casket has a solid wood Bar Handle for Pallbearers.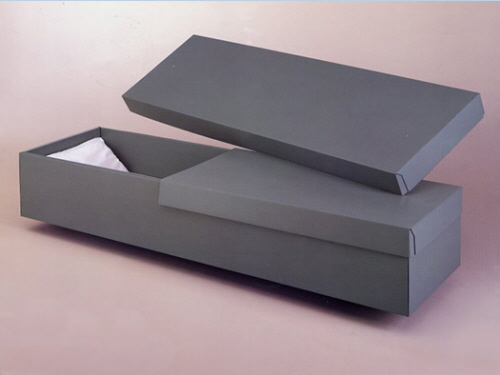 Basic Alternative Grey Cardboard
No description available.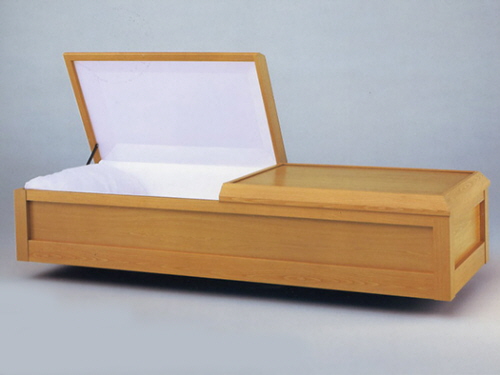 Bayview Beach
This is a very popular cremation Casket especcially for those families wishing to pay their final Respects.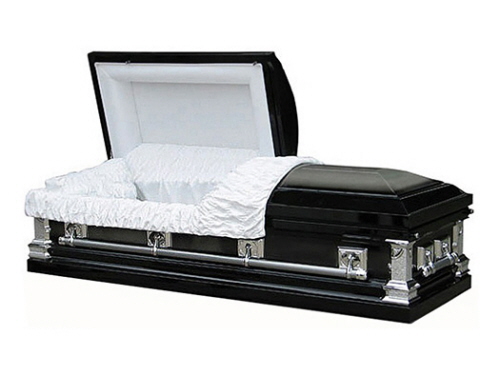 Black Onyx
This is an 18 Gauge casket Black in color with brushed Silver Hardware.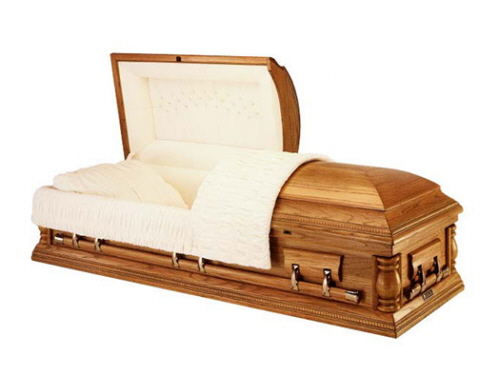 Charleston Oak
This is a manufactured Oak with satin finish and Velvet interior.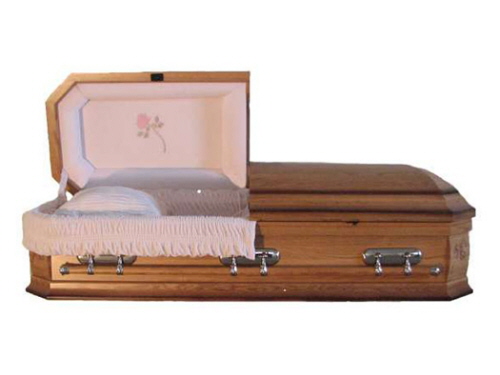 Chelsey Oak
This casket is a solid Oak octagon shape with Satin finish it has a pink Velvet interior with a rose in the cap Panel.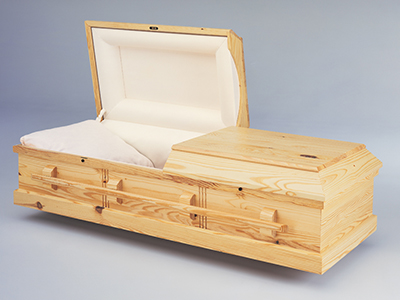 Clarion
61X-847-H Clarion Pine Rosetan Crepe Interior Pine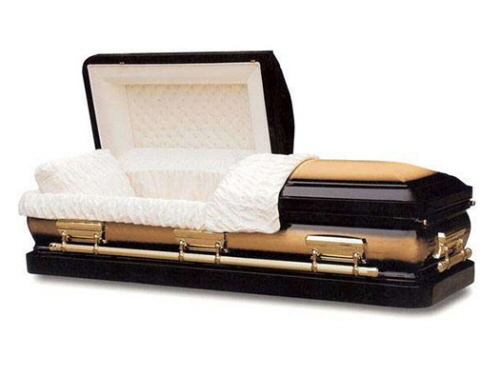 Colonial Bronze
This is a solid Bronze casket with Gold Plated Hardware and Velvet Interior.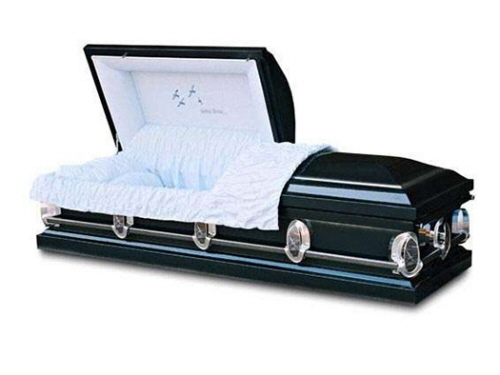 Destiny Blue
This is an 18 Guage Metal Casket Dark Blue in Color with Birds on Handles. It has Going Home in the cap panel of a pale blue crepe interior.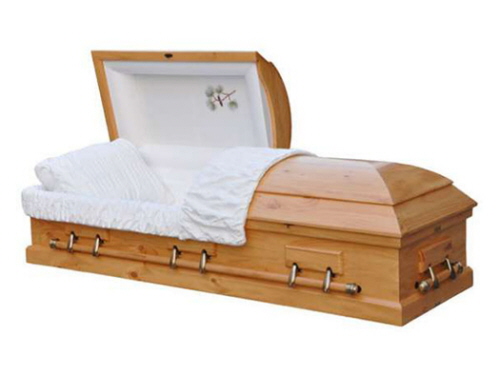 Eastern Pine
Solid Pine Casket with Pine cones in Cap Panel. Medium Satin Finish.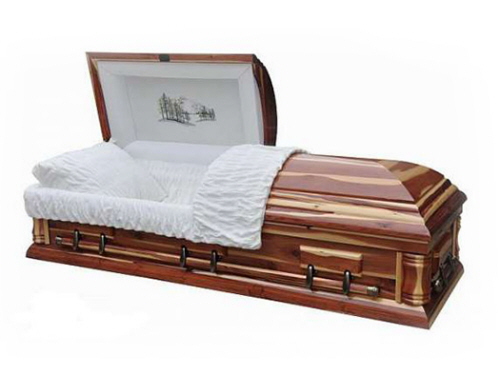 Franklin Cedar
Solid Cedar Casket with trees in cap Panel. Polished Finish.
Harvest Oak
Eggshell Crepe Interior with Wheat in Cap Panel. Adjustable Bed. Swing Bar Handles.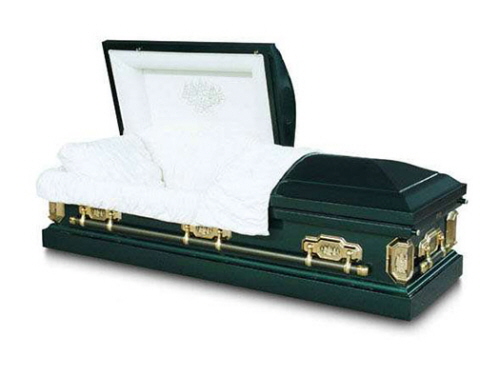 Hunter Green
The Hunter Green is an 18 gauge steel casket with an eggshell Velvet interior. It has gold accented handles and Hardware.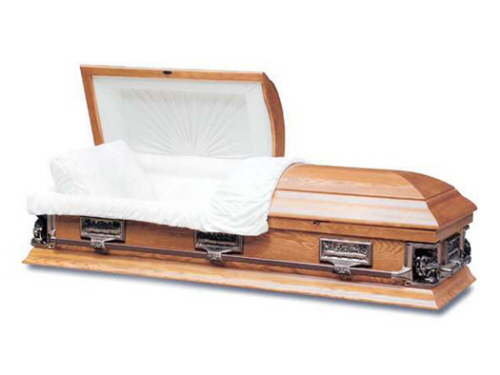 Leonardo Oak
Manufactured Oak Casket with Last Supper Handles and pieta corners. High Polished Finish.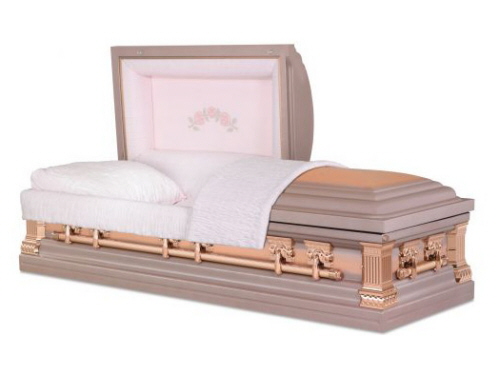 Lilac Copper
This is a 32 0z.Solid Copper Casket with Champagne Colored Velvet Interior.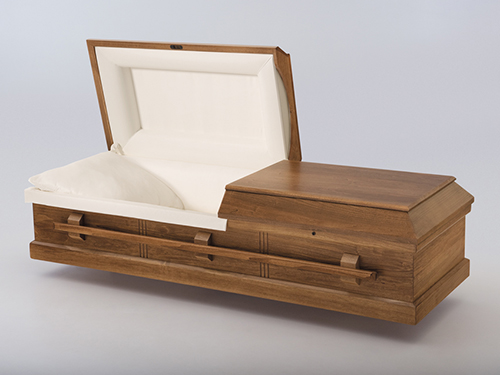 Newport with Handles
Rosetan Crepe Interior Hardwood (with Handles)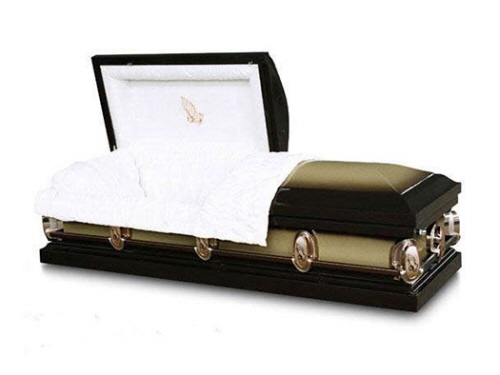 Pearl Fawn Venetian Bronze
This is an 20 Guage Steel Casket with a brushed Finish. It is an Dark Brown with Golden Brown Highlighting. It has praying hands on the corners.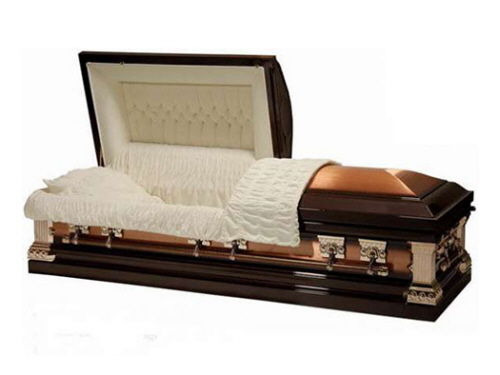 Pinnacle Copper
This is a solid Copper Casket with Tan Velvet Interior. Brushed Copper Finish.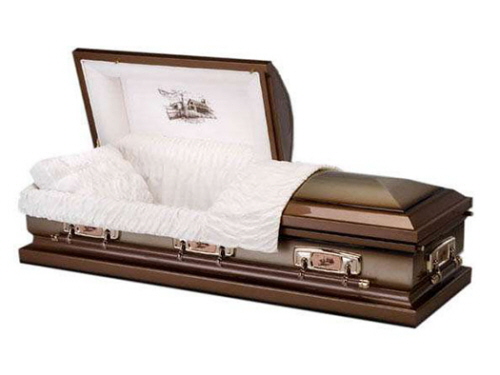 Pioneer Homestead
The Pioneer Homestead casket is an 18 gauge steel casket with a rosetan drexel crepe interior. Barn Inside cap Panel.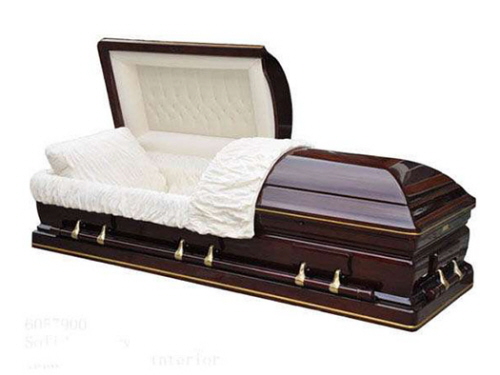 Prestige Cherry
This is a solid Cherry Casket with Gold Striping. It has a tan Velvet interior Adjustable Bed and Matress.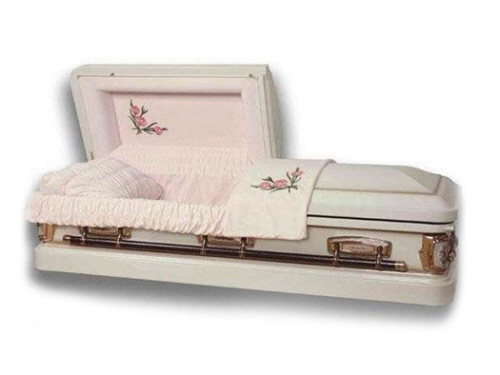 Rainier Primrose
This casket is an 18 Guage Metal sealing Casket with Pink Flowers on handles and a pink crepe interior.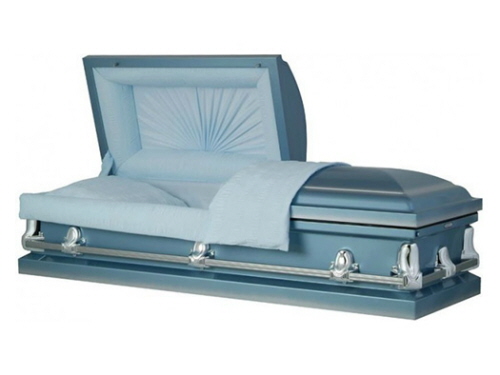 Serenity Blue
This is an 20 Guage Steel Casket Smoky Blue in Color with light Blue Crepe Interior.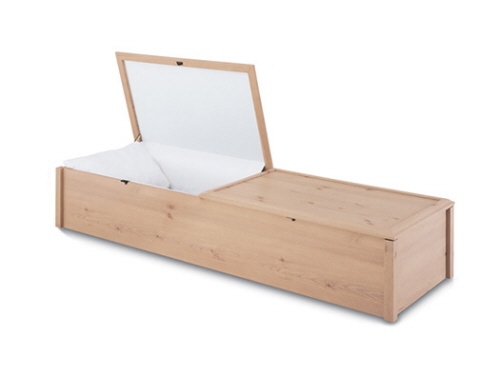 Shaker Pine Hardboard
This is a cremation casket made of Pine Hardboard with white satin interior.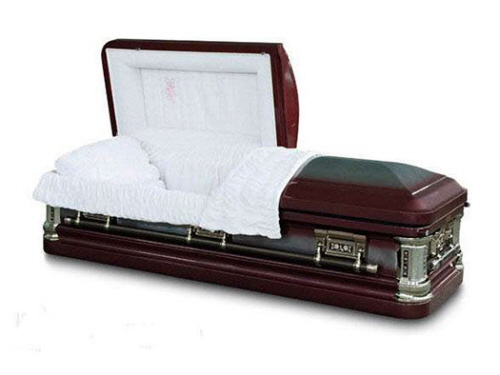 Silver Plum
The Silver Plum is an 18 gauge metal sealing casket with a dusty rose velvet interior. It is a plum color with brushed silver top and sides.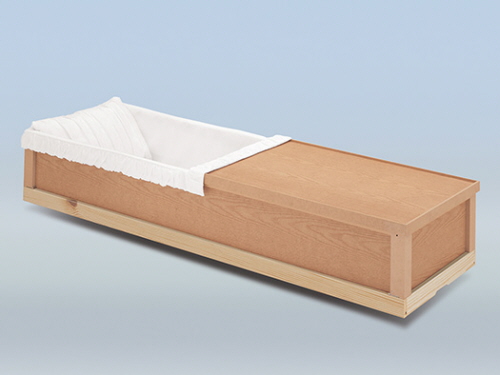 Stratus
This is an alternative cremation container made of hardboard.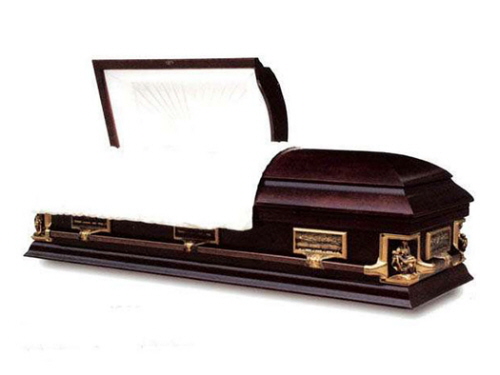 Westminster
This is a select manufactured. Hardwood in a Dark Cherry. High Polished finish it has Last Supper handles with Pieta corners.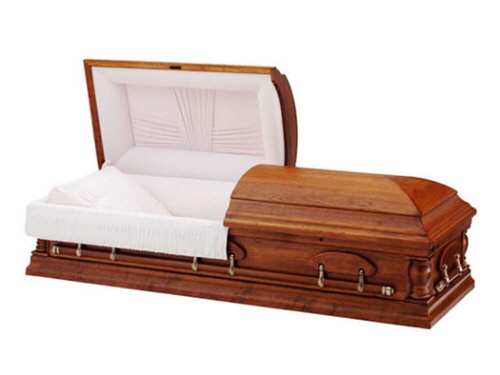 Woodbridge Pecan
The woodbridge pecan is a solid hardwood casket. with rosetan crepe interior, memory safe drawer and interchangeable corners